Spanish Banner: Intercambio de Enlaces.
---
CONTADORA & CLASIFICADORA DE OVAS
"VMG Industries"

Retornar a Falke

---
Van Gaalen Fish Egg Sorter
An innovation in fishery technology
The van Gaalen Fish Egg Sorter uses the most current technology to bring you an egg sorter that offers:

Variable Egg Sizes

Using our patented standard disk, the Van Gaalen Egg Sorter will sort trout from 150 to 500 per ounce, or if equipped whith the salmon disk, it will sort any size salmon egg. Best of all, you never have change disks to handle different sizes of eggs.

Speed

Our model N-100 sorts 100,000 trout eggs per hour

Accurancy

The patented technology in both our model uses fiber optics and modulated infrared light to scan the egg and assure you of highest level of accuracy. Our customers regularly report 98 to 99% accuracy.

Egg Counts

We know accurate counts are important so we incorporate both live and dead egg counters.

Safety and Versatility

The Van Gaalen Fish egg sorter has been used all around the world and will accommodate any local voltage. In the interested of safety and reliability, we reduce the local voltage to 12 volts. D.C.

Reliability

Fifteen years of proven performance from our first models. Of course, we have improved our design as new ideas and technology have proven functional but we have always used the finest material and highest level of workmanship.
---
Patented Processes offer accuracy, speed, and reliability
Here's How it Works!
Eyed eggs are placed in the trough with water flowing through the botton. Several pounds of eggs may be loaded at one time.
The water flushes the "eyed" eggs against the patented disk whare they are captured in the tapared holes in the outside of the disk. Once the egg sorter is fitted with the disk matching the type of egg you are sorting (trout or salmon) it will sort any size egg inserted.
The eggs in the disk then pass an electronic scanning device which, using modulated infrared light, detects dead eggs. All with 100% ambient light immunity.
Dead eggs are then ejected out one side of the sorter while the live eggs travel to the opposite side where a gentle flow of air ejects them into a curtain of water which carries them to a separate container - safe, sound, and ready for futher incubation.
The counters them increment, providing accurate totals of both live an dead eggs sorter. Each time a dead egg is detected , a light comes on giving you visual assurance that everything is working correctly
As you can see, the patented processes used in the Van Gaalen Egg Sorter provide a number of advantages:no need to change disks unless you change the type of egg to be sorter, the safety of 12 volt power supply, and reliability proven by our years of experience. I speed, accuracy, and ease of use are important to your operation. call us today to learn more about the Van Gaalen Fish Egg Sorte : Falke Ltda., Fax (56-2) 2270021 - Chile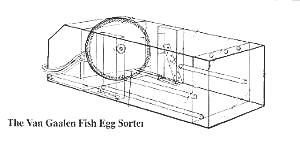 ---
FALKE LTDA. FAX (56-2) 2270021 - FONO(56-2) 2277707 SANTIAG0 / CHILE