Spanish Banner: Intercambio de Enlaces.
Salinity Refractometers

Retornar a Falke
---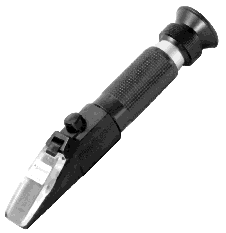 One of the most accurate, simple, and rapid methods for determining the salinity level of water is the refractometer. Just place a single drop of water on the window and look through the eye piece to read salinity in parts per thousand. These refractometers are easy to read, non-corrosive and lightweight. They have dual scales, adjustable focus, and carrying case with belt attachment.

Salinity determinations are dependent on temperature. If you expect to do your measurements at a temperature very close to 20°C (68°F), the non-temperature compensated model (SR-2) will save you some money. Model SR-1 is automatically temperature compensated between 10 and 30°C (50°-86°F.) and accurate to 1 ppt. Both units read specific gravity (1.000 to 1.070 in .001 divisions) and in parts per thousand (0-100 in 1 ppt divisions). SR-2 includes temperature compensation chart. Imported. One year guarantee. Actual weight is 0.6 pounds.
Part No. SR-1 Compensated	    
Part No. SR-2	Non-compensated    
---

Related Items
Low Cost Salinity Refractometer
---
FALKE LTDA. FAX (56-2) 2270021 - FONO(56-2) 2277707 SANTIAG0 / CHILE