Retornar a Falke

---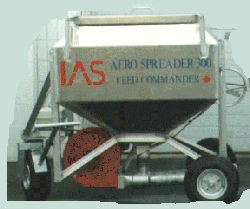 ---
Contents:
---
WHAT IS THE SERIES 300 FEED COMMANDER?

The Series 300 Feed Commander is an air driven feed broadcaster designed for single operator control of feed volume and broadcast coverage. With a wide variety of farm site configurations in mind, the Feed Commander is offered with a 500 kilogram capacity hopper and as either a stationary or mobile unit. The stationary Series 300 Feed Commander has been designed for positioning on central walkways, for barge, boat or skiff mounting, or for quick deployment in the back of a pickup truck. The mobile Series 300 Feed Commander is ideal for central steel cage system walkways, feed barges, and all land based applications. Designed to utilize three large pneumatic wheels (to insure a stable stance), with the ability to be turned within its own length, and utilizing full rear wheel steering, braking and wheel locking, the Aero-Spreader Series 300 is ideally suited for farm use.

HOW DOES THE FEED COMMANDER WORK?

The "Aero-Spreader" Feed Commander operates using a reliable 9 h.p gas driven Honda motor, complete with low oil alert, to direct drive high efficiency 15" blower unit. Maximum simplicity has been designed into each Feed Commander with the use of two moving hand controls for manual adjustment of feed flow from the hopper as well as adjustments to blower speed used to determine feed broadcast distance. A stainless steel flexible, hand held broadcast nozzle is designed for line-of-site placement of feed pellets anywhere within the pen. Other nozzle configurations allow for various feed broadcast patterns and feed coverage distances. At any time the operator may close the feed flow control handle to immediately stop the flow of feed as is necessary to observe feeding habits or to relocate the feeder to the next feeding station.
HOW IS THE FEED COMMANDER CONSTRUCTED?

All series of "Aero-Spreader" Feed Broadcasters utilize polyethylene plastic, marine grade aluminum, hot dipped galvanized steel, and stainless steel hardware. I.A.S. Products Ltd. proudly offers all of its products with a full one year warranty.

ARE THERE OPTIONS AND HOW CAN I SAVE $$$?

The Feed Commander has been designed as complete self contained operating units requiring no additional equipment. The Feed Commander is available with a choice of broadcast nozzle configurations as outlined above. Larger stationary versions of the Feed Commander called the Feed Admiral are offered with increased hopper capacities, broadcast volumes and broadcast coverage. We would be pleased to quote on a single or multiple unit sale where volume discounts may apply.

WHERE MAY I PURCHASE A FEED COMMANDER?

You may enjoy the immediate benefits of an "Aero-Spreader" Series 300 Feed Commander by simply clicking on the E-mail: Falke Ltda. or mailing, phoning,or faxing us.

---
mobile unit can be rolled into feed shed, loaded using standard 500 kilo bulk feed bag or up to twenty (20) 25 kilo. bags, and then quickly positioned where required.



stationary unit ideally suited for boat mounting and bulk bag loading for quick open water circular pen feeding.



broadcast a range of feed sizes from 2 mm. to 16 mm.



vary the broadcast volume from 1 to 56 kilos per minute.



vary the broadcast distance to 25 meters. Optional nozzle increases distances to 32 meters.



flex hose allows for 100% coverage of 30 x 30 meter pen . Optional nozzle configuration allows for 70% coverage and increased broadcast distance necessary for circular pens as broadcast from a vessel.



accurately place feed pellets anywhere in the pen.



immediately stop feed flow if fish not feeding.
---
Index
---
FALKE LTDA. FAX (56-2) 2270021 - FONO(56-2) 2277707 SANTIAG0 / CHILE

Retornar a Falke
---
GRACIAS POR SU VISITA
ESTA PAGINA HA SIDO VISITADA
VECES

---